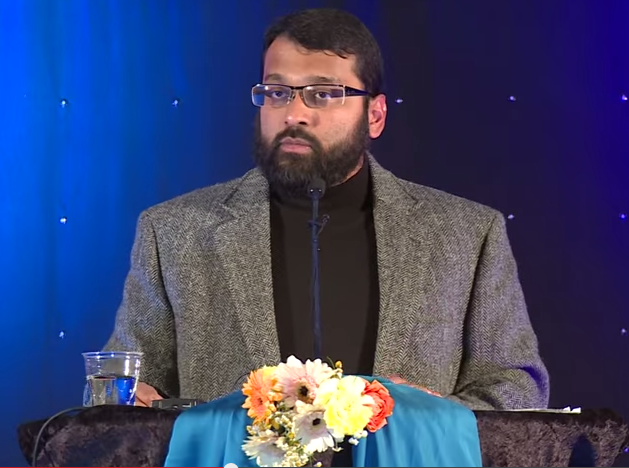 I was quite disappointed with Yasir's presentation. I did expect a more rigorous argument - my thoughts are as follows:
- Purpose of revelation
o I have always seen the need for revelation as mutually exclusive to empirical/rational knowledge
o Its domain is metaphysics and ethics, ours is the natural world understood through reason/sense perception etc
o Yasir's argument seemed to violate, or more accurately muddy, this divide
o No doubt God often comments on the natural world or cites examples from it - however it is not intended to inform us of facts, as the citation relies on us a priori knowing or accepting these as facts using the abilities he provided us with
- Interpretation of divine texts
o I did not see how major divine texts relating to the creation of Adam (as) could not be reinterpreted if faced with persuasive or even conclusive evidence
o He did not persuasively or forcefully clarify why the metaphorical or allegorical interpretations are unsatisfactory aandeuro;" at least it did not make much sense to me
o He cited Qur'anic verses:
- The Qur'anic verses cited left the possibility for interpretation aandeuro;" for instance Allah created Adam, the term aandeuro;œcreatedaandeuro; does not clarify the "how"; likewise in the cases of "created with his hands", this phrase is so ambiguous one would struggle to put any sort of substantive meaning to it whereas he implies he can without elaborating.
- God created Eve from Adam - again this is ambiguous. He created her physically from his body or metaphorically from the same material as him or a host of other possibilities.
o Regarding the ahadith:
- Similar interpretative explanations could be provided in most if not all cases
- The famous historical ahad/tawatur distinction and the debates about taking ahad into aqeeda as indecisive texts have serious implications for basing creedal decisive beliefs on such evidences
- Wider research indicating other possible interpretations
o I noticed some interesting references in Shi'a sources about the possibility of thousands of Adams predating Adam which opens up the topic for more discussions within Islam
o A couple of examples are cited below:
- The Prophet said: Allah has created one hundred thousand Adams before the Adam,
- Imam Muhammed Alial-Baqir is quoted to have said: Indeed, before Adam, our father, one million or more Adams have passed. Ref : al-Razi, Tafsir-e-Kabir, 19:179.